My Phase I flight test period ended on 6 April 2009 when I received my Phase II Operating Limitations from the San Jose FSDO. The links on this page will be used to show some of the sights from the fun flights that I dreamed about through more than 12 and a half years of building and another 6 months of flight testing and maintenance.
It took a full year after the first flight before I got Kellie to take a ride in our new airplane but appropriately enough on 25 October 2009, the one year anniversary of the first flight of our RV-6A, Kellie got her "RV-grin" after a short sightseeing flight from Palo Alto, CA out over the Half Moon Bay, CA area and back to Palo Alto (I'm still not sure if she's smiling because she enjoyed the flight or just because she's so glad to be back on the ground - she's not as enthusiastic about small airplanes, or any size airplane for that matter, as I am):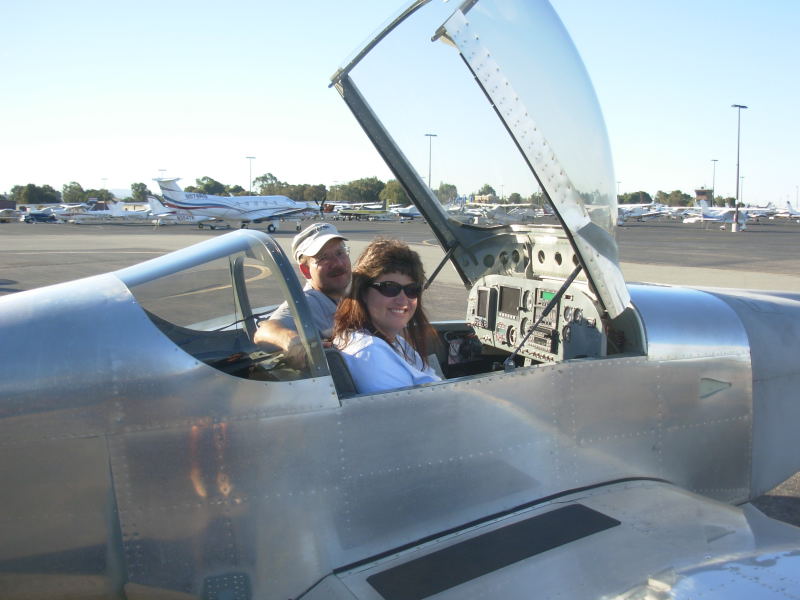 One of the biggest dreams I had during the long construction period was of flying my RV-6A into the biggest experimental aviation fly-in / airshow in the world: the annual EAA Oshkosh Fly-In (now known as AirVenture) in Oshkosh, Wisconsin. EAA AirVenture 2009 was to be the year that dream was fulfilled. Flying into Oshkosh for the big event involves flying the busiest Visual Flight Rules (VFR) approach corridor you'll find anywhere in the world but if you follow the rules and guidelines provided by the FAA NOTAM, it's not necessarily a hard thing to do. The approach into Oshkosh was all business and it was great having my son Justin in the right seat helping out with an extra set of eyes along with handling charts and NOTAM pages. We took a lot of pictures, but not as many as we should have....some of what we did take and the story of our trip is on the Oshkosh 2009 pages on this site:
EAA AirVenture 2009, Oshkosh!!
Oshkosh 2009 in-flight photos are on Oshkosh pages 1 through 9:
pg 2 | pg 3 | pg 4 | pg 5 | pg 6 | pg 7 | pg 8 | pg 9
Airbus A380 photos from the A380's Oshkosh 2009 visit are on pages 10 and 11:
Burt Rutan's White Knight II (civilian space flight project) photos are on page 12:
Oshkosh 2009 Homebuilt Camping Area photos are on page 13:
Oshkosh 2009 static display photos are on pages 14 through 17:
The first cross country flight my RV-6A made was on 18 April 2009 about a week and a half after completing Phase I flight testing. Justin and I made the flight out to Visalia to visit with my parents who had traveled in their ground-bound RV from Desert Hot Springs, CA to Three Rivers, CA near Visalia as they started their spring migration back to their summer home in Western Washington. Click here for some pictures Mom took during our time in Visalia:
San Francisco Bay area tour with Justin on 16 May 2009:
Santa Cruz flight (3 April 2011):
Friday Harbor (11 August 2012):